Since August and this article explaining the context and the methodology, our team has used to co-design a social mobile robot with healthcare professional; Tiago has grown up.
He has been designed to help and entertain elderly people but also to support caregivers in health services and institutions (EHPAD, day care, rehabilitation center, SSIAD, SSAD).
Studying the social organization of three different types of places and their needs through interviews, cultural probes and observations at the beginning of the project, allowed us to create eight potential use cases for Tiago which are being a welcoming robot, an informative robot, a motivating robot (to invite people to activities remind them of lunchtime for instance), a reminder of good behavior (for Covid-19 for instance), a stimulating robot, a guiding robot, a game interface and an activity leader.
To prioritize scenarios and mainly work on some of them, we organized some focus group around various activities with professional health care and old persons.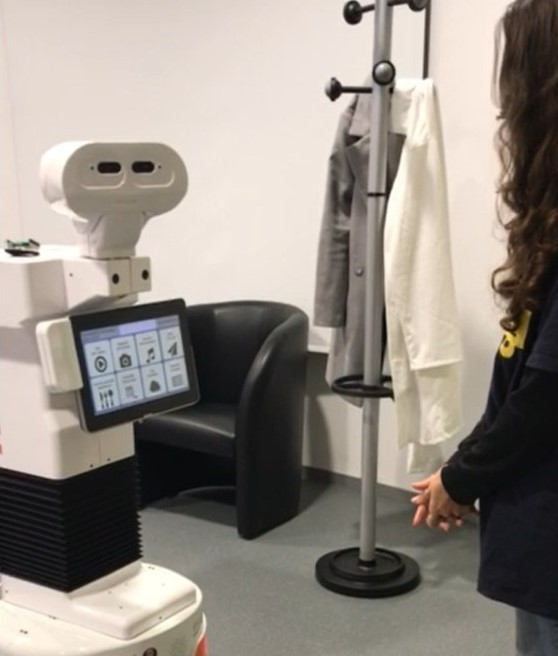 So the first skills Tiago is working on are:
Being a welcoming robot: placed at the entrance, he wishes "welcome" to people and verbally guide them.
Being an informative robot: he replies to simple question like the date, time, weather, lunch or dinner menu, activities…
Individual games: its touch-sensitive screen makes it possible.
Collective game: the activity leader will be assisted by Tiago during the game.
We realized a scenario combining the welcoming and information skills. We're currently testing it with potential users in a fictive apartment until January at least. Once the scenario will be established, we'll start the testing in institutions.
In HMI development, our team makes a point of honor to follow a methodology centered on the user. And by doing so, we catch the right information about the needs of the users which guide us in the development process to create relevant solution and functionalities.