We are delighted to announce that Bachar Rima is joining our team to start his Ph.D thesis.
Bachar Rima is a Lebanese Student who has completed his higher education in computer sciences in France at Université de Montpellier. He has a master in Software Engineering and Web technologies. He did an internship with Berger-Levrault in 2020, working with Ph.D student Pascal Zaragoza, on the subject of Software Migration, namely at the architectural level.
Afterwards, he worked with LIRMM, in R&D as well, for a year and a half on the theme of Software Traceability, namely dealing with logs and how to automate their creation and generation to accomplish one/many tracing objectives. His job consisted in developing a prototype to demonstrate the feasibility of the SoftScanner project. Finally, after a year and half, he managed to demonstrate the feasibility of the project for academic pursuits, and based on it he was recruited by Berger-Levrault to pursue a Ph.D on the subject for the upcoming three years.
He also held a teaching position at the University of Montpellier for some undergraduate and graduate modules, namely Java programming, Android programming, distributed programming, as well as software evolution and maintenance.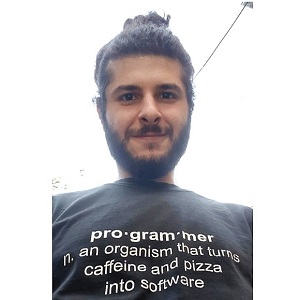 The goal of his thesis is thus to continue the refinement and development of SoftScanner, by using and applying it and on industrial use-cases provided by Berger-Levrault, but also some other open-source and community-based use cases as well.
Welcome Bachar and goo luck for the next three years
Check his YouTube channel where he propose live programming videos and tutorials.